Temporary Services
http://www.temporaryservices.org/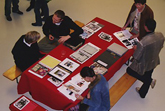 As we live, so we work
Temporary Services is a group of three persons: Brett Bloom, Marc Fischer, and Salem Collo-Julin. We draw on our varied backgrounds and interests to incorporate our aesthetic practice within our lived experiences. The need to create change within our daily lives translates directly to our public projects.
The distinction between art practice and other creative human endeavors is irrelevant to us. We embed the creative work we present within thoughtful and imaginative social contexts and strive to create participatory situations.
We champion public projects that are temporary, ephemeral, or that operate outside of conventional or officially sanctioned categories of public expression. We appreciate such diverse activities as makeshift roadside memorials to accident victims, temporary housing encampments designed by homeless people, tree houses fabricated by children, and idiosyncratic public notices that get stuffed inside the display windows of free newspaper boxes. We like outdoor projects that are encountered by surprise rather than sought out with deliberation like exhibitions and special events. We especially appreciate those projects that do not have permission and challenge expected usages.